Registration for the Baltic Summer School of Digital Humanities 2023 is open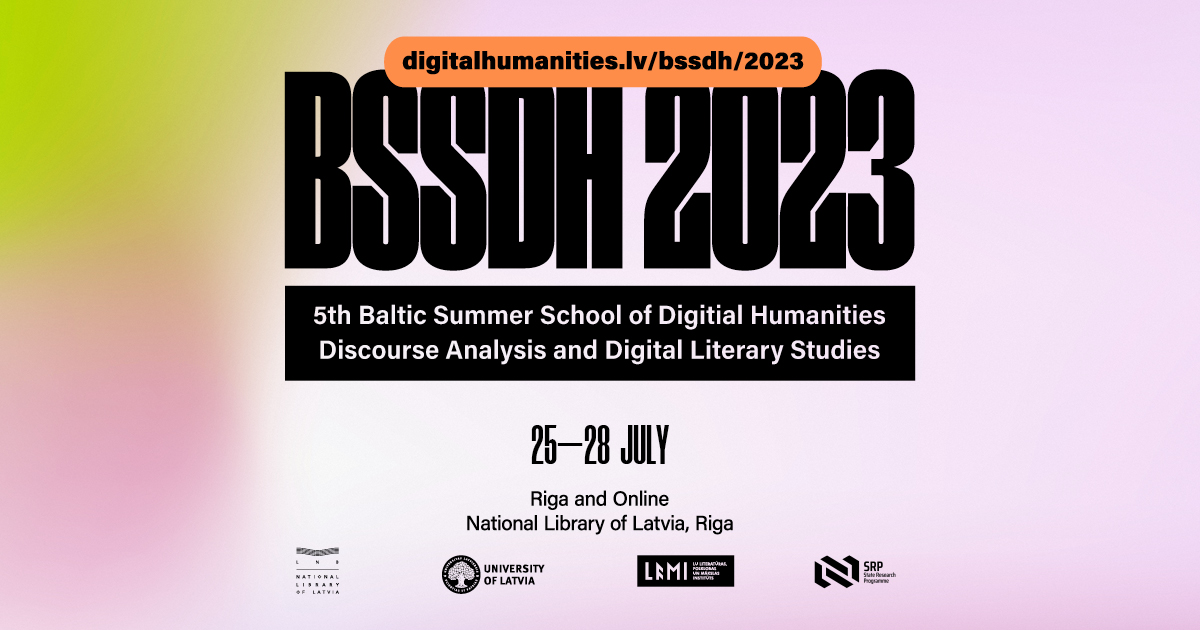 Students, researchers, and GLAM professionals are welcome to enrol in the Baltic Summer School of Digital Humanities: Discourse Analysis and Digital Literary Studies, which will be held on 25-28 July 2023 at the National Library of Latvia (NLL) and Online.
The Baltic Summer School of Digital Humanities is an international intensive continuing education programme that provides the opportunity to researchers, educators, and students of humanities and social sciences, as well as archive, library and museum professionals to master various digital research skills, from data wrangling and analysis to visualisation.
In 2023, the school is organised for the fifth time and provides the opportunity to learn the basics of data analysis and visualisation with Python programming language, master web harvesting skills, and learn to use Tableau and Gephi platforms for visualisation. Particular areas of interest this year are discourse analysis, digital literary studies, audiobooks, and DH infrastructures. The full programme can be viewed on the website Digital Humanities in Latvia.
The school is organised as a hybrid event on-site and remotely. The fee for completing the full course is EUR 30 for both on-site and online participants; keynote lectures will be accessible for free and streamed on the NLL's Facebook and YouTube channels. The working language is English.
Registration form for the summer school is available here:
http://www.digitalhumanities.lv/bssdh/2023/registration
The Baltic Summer School of Digital Humanities is organised in cooperation with the National Library of Latvia, the Institute of Literature, Folklore and Art of the University of Latvia, and the University of Latvia. The programme is supported by the project "Towards Development of Open and FAIR Digital Humanities Ecosystem in Latvia" (No. VPP-IZM-DH-2022/1-0002), which is implemented within the framework of the National Research Programme "Digital Humanities" and funded by the Latvian Council of Science of the Ministry of Education and Science.
For more information contact:
Anda Baklāne
National Library of Latvia
Head of Digital Research Services
E-mail: dh@lnb.lv
http://www.digitalhumanities.lv/bssdh